Preserving Your Wedding Invitation
Ideas to help you preserve your wedding invitation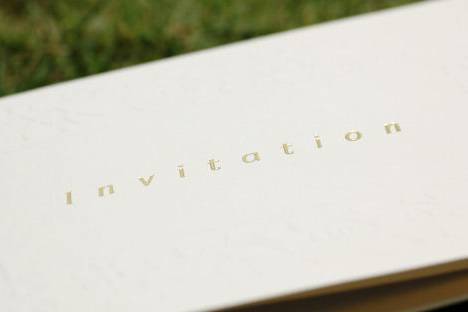 It is becoming an increasingly popular trend for brides to preserve their bouquets as it is a great way to keep a lasting memory of your big day. Similarly to this, you can preserve your wedding invitation as another excellent way to cherish those happy memories. If you choose to keep just one invite this will not be enough as time will cause the paper to discolour. Follow these simple steps to preserve your wedding invitation and have a keepsake that will last forever:
When you go to get your bridal bouquet preserved, take your wedding invitation along with you. Keep both of these things together so that whenever you look at them, you will be reminded of the happiest day of your life.
Be sure to laminate the invite and also frame it so that you can hang it in your living room.
A particularly elegant and rather different way of preserving your invite is to have it engraved onto the lid of a glass box.
Alternatively, another option is to take a picture of you and your spouse, and print it out with the words of your invitation running around the edge. Frame it and hang it in your bedroom.
If you enjoy a spot of embroidering, you can embroider the words of your wedding invitation onto small satin pillows to be displayed to your friends and family.
One final idea is to have your wedding invitation wording engraved onto the top of the album containing your wedding pictures. Your wedding pictures are a stunning lasting memory of your big day and to have the invitation to look at each time you look at the pictures can make this memory even better.
Browse ideas for your wedding stationery by looking at our inspiration gallery.