Choosing the Perfect Engagement Ring
Advice from an expert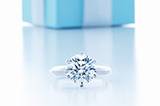 Your engagement ring is one of the only pieces of jewellery that you will wear for the rest of your life — along with your wedding ring — so you want it to be perfect, timeless and something that you know you will cherish forever. Whether you are choosing your engagement ring together as a couple or the groom-to-be is choosing the ring himself, there are so many options and current trends around that it can be difficult to know where to start.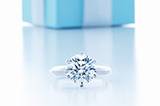 Price on request from Tiffany & Co,
The Luxury Hall at Brown Thomas Dublin
Consultant and diamond dealer Natasha Sherling has some fantastic advice for us on how to find the perfect engagement ring, what to look out for and how to maintain your ring's gorgeous shine and sparkle.
Natasha says:
"So many people get caught up with colour and clarity — but in fact, it is cut (the proportions and symmetry of a stone) that should take precedence, as this is what makes a diamond sparkle. Certification is an absolute minefield: there are so many different associations — some more legitimate than others — so it is important to discern between them. This is why couples and fiancés-to-be often seek my advice — I frequently travel to dealers, stores and auctions with them for assistance.
"In terms of style, more unusual stones have been taking precedence recently. Fancy shapes, such as pears or princess cuts hold a lot of appeal — as do coloured diamonds. Yellow stones are in high demand in the US and Asia, but are now gaining popularity in Europe as well — colour can be unique, flattering and special, with varying degrees of saturation to suit any skintone.
"Diamonds don't tarnish but they do attract grease. The nooks and crannies of prongs and settings also trap dirt, dulling the stone's shine. The good news is that an easy clean will ensure diamonds continue to look as good as the day they were first bought. Disregard old wives' tales — the best at-home cleaner is soap, warm water and a toothbrush. To have a really thorough job done though, bring the piece to a local jeweller, who will use special steam and vibration machinery to really get into every corner. While there, the jeweller can have a quick check over the setting, to make sure there are no loose or broken prongs that might jeopardise stone security."
Price on request from Tiffany & Co, The Luxury Hall at Brown Thomas Dublin