Tips for Choosing Your Wedding Suppliers
How to pick the perfect suppliers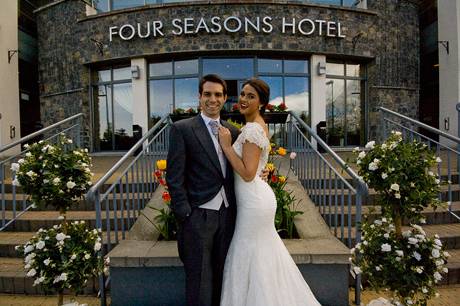 If you just got engaged over Christmas and New Year, January is the perfect time to sit down to some serious wedding planning! We asked three key wedding suppliers for their top tips to make sure choosing your wedding suppliers is stress free.
Choosing Your Wedding Venue
Majella Toner and Caroline McCumiskey, part of the wedding team at the Four Seasons Hotel Carlingford, explain all the things you need to consider when it comes to choosing your dream wedding venue:
First things first, view the ballroom when it is set for a wedding. Most venues have photos to show the room but there's nothing like seeing a ballroom dressed for a wedding.
Don't get lost in all the different packages that each hotel has. Look for simplicity and something that will suit both your needs now and your needs in, if you have a long engagement, two years' time.
The setting of your venue is very important especially in regards to your photographs. Photographs are such an important part of the day because they are what you're both going to be looking at in 50 years over a cup of tea.
Another important thing to keep in mind for your venue is its accessibility. How can you get there in bad weather? If you and your guests are travelling a distance how easy is it to find?
Can your venue provide enough accommodation? If not is there other options close by?
Finally — your gut feeling. At the end of the day when you've trawled through packages and the diesel is low in the car from travelling to different venues it's that gut feeling that will decide it for you. Even if it means saving that little bit extra or travelling that bit further to get there on the day you and your fiancé will know what venue is right for you.
Choosing Your Wedding Photographer
Wedding photographer Fiona McGuire explains how you should pick out your wedding photographer, as your wedding photographs are one of the most important parts of your wedding — a lasting memory and family heirloom.
"When selecting your wedding photographer, take three key things into consideration. Firstly, and most importantly (in my opinion), style. The first thing to consider when choosing a wedding photographer is style — yours and theirs. Do you like contemporary, documentary or traditional? Pick a photographer that has pictures in their portfolio that capture the way you would like to remember your wedding.
"Second on my list is personality. Once you have a list the photographers whose style you like, arrange to meet up with them for consultations to see if you will get on with them (meet them over skype if in person is not possible). This person is going to be with you all day long, on one of the most important days of your lives, so it's so important you feel comfortable with them.
"Finally, budget is important. Though our instinct is to make a decision based on price, please be wary of doing this when choosing your wedding photographer. Having worked out your budget for the entire wedding, have some flexibility with your budget set aside for photography. If you can't afford an album immediately ask if your photographer will do flexible payment terms, or is willing to do an album later. Your wedding photos are for life, family heirlooms to be passed down, so be confident that the photographer you choose will provide you with images that you will love and cherish forever."
Picking Your Wedding Dress
Deciding on your wedding dress is one of the most fun parts of planning a wedding! By browsing the wedding dress section on hitched.ie you'll get a good idea of what kind of styles you like, whether you want a timeless fishtail wedding dress or a traditional ballgown.
Mona from Bridal Bliss sees countless brides find 'the one', and advises that when you're going wedding dress shopping you "think about your body shape and personal style — consider all your choices, the style and shape of the wedding dress, necklines, length, waistlines, trains, sleeves. Go with what you love!" By trying on a range of different styles, you may surprise yourself with something you wouldn't have expected to like!
Selecting Your Wedding Cake
Cat Lawlor, from the Cake Cuppery, creates beautiful wedding cakes and has a few words of wisdom for when it comes to choosing your wedding cake maker.
"Do your research — start your search for a wedding cake designer online, and visit wedding sites and blogs for inspiration. Don't be afraid to ask people for recommendations too. Be cautious if a cake maker appears to cheap, remember 'Good cake isn't cheap but cheap cake isn't good!'
"When you've found the perfect cake maker, enquire to meet them and sample their work sooner rather than later. I advise getting in touch between three and six months before your wedding, or sooner if it's a busy time of year to avoid disappointment.
"Finally, make the cake a statement. There are so many different options; you don't have to settle for a traditional 3 tiered fruit cake. A huge trend at the moment is 'The Cake Table'; accompanying your main cake with other treats such as cupcakes, cake pops, tarts, meringues etc. which creates an amazing display that will be sure to wow your guests."