With the average cost of weddings reaching a whopping €21,745 last year, penny pinching brides are trying everything to keep the cost of their wedding day down to a minimum, whilst having the best day of their lives. Budget concious couples are embracing the new trend of DIY photography. If you're considering a hands-on approach to wedding photography, take a look at these top tips and things to remember when attempting to photograph your own big day.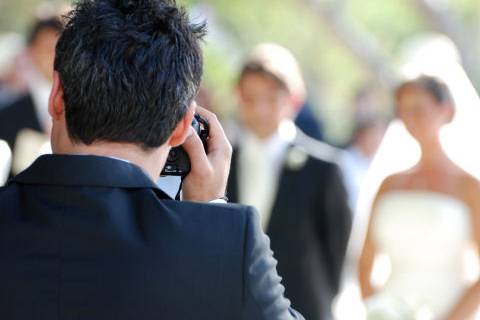 DON'T think that the photographs will be professional quality
Even if someone in your wedding party has an amazing new digital-SLR specially purchased for the wedding, the photos will not have the same wealth of experience as some professional photographers. It can be quite difficult to get the right shot, not just because everyone is moving around at weddings, but also because venues have different lighting that needs to be accounted for, and may require special equipment.
DO embrace the candid style of photographs your guests produce
When you're stood in front of a camera it can be difficult to get a relaxed, natural shot of you and your guests. If it's your best friend or family member behind the lens you may get a completely different kind of shot as you relax.
DON'T forget photography etiquette
Bride, Groom and guests alike need to be aware that some venues aren't happy about photographs being taken. Religious venues may not allow flash photography, or even photographs of any kind. Make sure you're aware of cultural traditions and the venue's limitations before you get snapping.
DO put some effort into researching professional techniques
Both you and your guests could probably learn a thing or two from the pros, and there are plenty of online resources where you can learn about what makes the perfect shot. Generally speaking, natural daylight makes for the best photographs, but don't be afraid of taking pictures during the evening reception where there is low lighting, as this can create a really romantic atmosphere.
DON'T forget there's always time to edit
If your photos come back from the printers and they aren't exactly as you'd hoped, you always have to option of getting them professionally retouched, or you can do it yourself with photograph editing software.
DO live in the moment. If you're being brave and letting all photography responsibilities go to someone else, whether a professional or novice guest, you can't spend all night worrying. You will only have your wedding day once; enjoy it and make great memories!
There are so many benefits of allowing your guests to photograph your wedding day. Together, you can create some really personal memories to cherish, as long as your photos are done right. Why not share this article with your Facebook friends or Twitter followers to give a few hints and tips to your guests ahead of the big day?