Wedding Photography with a Difference
Consider analogue wedding photography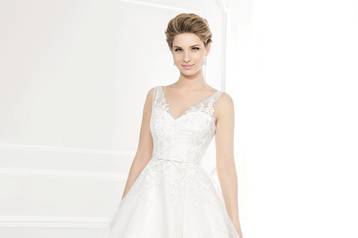 If the traditional wedding set up doesn't appeal to you, and you want something more unique, why not consider choosing analogue photography? Images captured with analogue photography look like they could come straight from the 50s or 60s, ideal if you spend most of your life ambling around car boot sales and vintage stores.
This method of photography is great for those who want really creative wedding photography, and want to bring their lifestyle into their wedding. You can add your personality to your shoes, dress and even your wedding car, so why not do the same with your wedding photography? You want a photographer that understands your style and also might look at things a little differently themselves, like Emma Case Photography.
In this digital age, where everything is instant and computerised, it's refreshing to bring something to life that you can touch and feel. Emma Case Photography use a mixture of digital and analogue photography to uniquely capture a couple's special wedding day.
We caught up with Emma to find out more about analogue photography...
What is analogue photography?
Analogue photography is pretty much anything that isn't digital. This can range from top end 35mm professional film cameras like my current favourite the Canon A1, which would have been very popular around 30 years ago, to lomography cameras like the DIANA or the HOLGA, these are very basic plastic cameras that are prone to light leaks, colour spots and vignetting, and they use 120mm film. They give a beautiful faded, saturated colour finish, and have a grainy look to the images. They were kind of children's throw away cameras in the 1970s and have had a resurgence in the last 7 years or so because of their unique style and availability in fashionable shops like Urban Outfitters and of course the Lomo Shop.
I also love to use vintage polaroid cameras as there is nothing better than the poppy colours and shades you get, also they are instant, so you can hold them in your hands right away, the fact you can see it and touch it is wonderful. I have 2 polaroid cameras that I always bring to weddings and the results are always stunning, my Polaroid 104 land camera, and my Polaroid spirit 600.
What made you decide to use this method as a form of wedding photography?
I use it because I love it, shooting on film gives me a chance to be artistic and creative on different levels. The look and feel of film is totally unique and sometimes the gamble of using the film is what adds to the experience. I also adore the imperfection of it... Digital is all about getting it right: clean, perfectly exposed, sharp images, whilst analogue throws all that out of the window. Any imperfections give the image so much texture and character... they're mini pieces of art! My couples are also huge fans of film photography, and will more than likely own a polaroid camera themselves.
How important is the photographer's style when it comes to the style of wedding the couple are having?
Personally I think it's essential for the photographer and the couple to suit each other, I can only speak from personal experience and say that all my couples are usually like me and Pete, they are into the same things as us, will love a good mooch around a car boot sale, love music, going to festivals and the importance of a good hug! We have made amazing friends with all of our couples, as your photographer will be with you every step of the day and see you at your most vulnerable, nervous, excited and in love. So it's far more important to find someone you trust and be able to capture your day as it is.
If a bride wants a retro style photographer for her wedding, what key things should she look out for?
I don't like to put labels on photography, as it can all start to feel contrived, gimmicky and a passing fad. Which it really isn't, I hope it offers another choice for couples to have a day that is real and unique to them, as that's the most important thing.
I'm simply putting myself out there as I am, so how I shoot and the way I look at things may be inspired by a lot of things in my life, my family, my growing up, the importance of family and experiences. It just so happens that a lot of the things I love, fashion, style, furniture, cars, music are not necessarily modern. Often the brides will be of a similar nature and enjoy similar things to me, so they will actively be looking to reflect that in their day as it's their lifestyle as well.
To find out more about Emma, visit her website: www.emmacasephotography.com.