Amazing Places to Get Married Around the World
Explore some of the most amazing wedding venues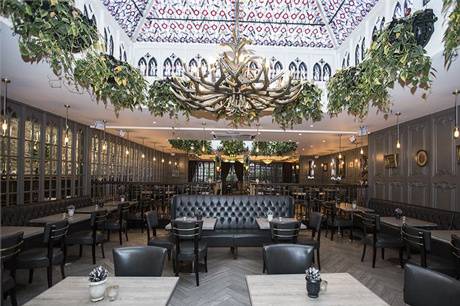 Searching for your wedding venue can feel like an endless task. Some venues seem perfect but won't let you use the supplier you want, others are beautiful but have a teeny tiny guest capacity (it's not your fault you're so popular!) and some, some just don't feel like the one. But have you considered extending your search a little further, maybe to the other side of the world? We've made a hitched.ie edit of the most amazing places in the world to get married, from a leafy treehouse to a mountain lodge. Prepare yourself for some amazing views, they might not be what you originally had in mind, but they could just inspire you to look a little further afield!
Langton House
Langton House is a boutique hotel nestled within the historical, winding streets of Dublin's city. At every turn this beautiful hotel has something unique to offer, from ornate décor to a dramatic theatre.
Despite residing in a modern city, what makes this wedding venue truly special is the old worldly touches, starting with the magnificent Langtons Ballroom. Stare upwards and you'll see 20 feet stretching endlessly towards the sky creating a more than luxurious detailed ceiling. Hand painted silk wallpaper lines the walls but just wait until you see The Garden Room. Especially designed by Gild & Cage, The Garden Room holds an other-worldy charm. Green samplings weave their way around light fixtures and tumble from the ceiling in a magical display that feels half The Secret Garden and half vintage chic. To top it all off, Langton House can also offer you exclusive use of its Set Stage complete with Moulin Rouge red furnishings and open plan two floor entertainment area! This venue really does take you on a journey through different eras and worlds, but which one will you choose? The choice is yours!

Treehouse Point
If you go down to the woods today... you're sure to find an amazing wedding venue — Treehouse Point! Tucked in the forest beside the Raging River in Washington, US, is an enchanting treehouse that will exceed all of your childhood dreams. You can get married amongst the trees, streams and mountains in this gorgeously leafy grotto with up to 80 of your loved ones. A boho brides dream, this venue lends itself to a rustic wedding theme and quirky touches. If you're a couple that is looking for the unique factor and above all to have some fun, this could be the place for you.
Photo credit: © Amanda Lloyd Photography

Bongani Mountain Lodge
Calling all outdoorsy brides! How do you fancy getting married in the South African bush? Miles away from any light pollution or hustle and bustle, the Bongani Mountain Lodge has the best view of the beautiful night's sky and millions of shimmering stars that you can see from your celebration. The Lodge sits just next to Kruger National Park, one of the largest game reserves in Africa which covers 19,485 square kilometres, and will give you an incredible, expansive view. In this oasis of peace you can really feel grounded and back to nature, especially with the company of the local wildlife!

Island Lake Lodge
At Island Lake Lodge you can say 'I Do' surrounded by some of the most incredible views in the world. The majestic Lizard Mountain Range is steeped in millions of years of history and can be your personal backdrop for those all-important wedding photo opportunities. The authentic lodge is set to a luxury standard and takes an incredible position within the Canadian Rockies and close by to an idyllic clear blue lake. Say your vows lakeside or by a by the warm glow of river rock fireplace — the choice is all yours. Stay for the weekend and enjoy a feast of fresh and organic meat and vegetables, late night dancing and lots of champagne — all topped off with a mountain view late night hot tub. Come streaming sunshine or swirling snowflakes, this venue never ceases to amaze with its dramatic beauty.

Las Ventanas Al Paraiso
The Rosewood Hotel group is known for its outstanding luxury service and opulent facilities, but if you really want the all-out glamorous experience then try the Rosewood Las Ventanas Al Paraiso in Mexico out for size. Designed to look like paradise, this sprawling hotel sits right on the beach and takes form in a mixture of white stone walkways, weaving lagoons, straw hutted suites and Moroccan inspired design. Spend your wedding reception gazing out to the Sea of Cortez's crystal waters and its breath taking coast line with a romantic and intimate outdoor reception. Whether you choose to dine on the beach with the soothing sound of waves lapping close by or on the sweeping terrace with panoramic views, make sure you catch the sunset when the sea and sky merge in a mesmerising mix of oranges and reds.