Venues From Around the World
From Italy to Australia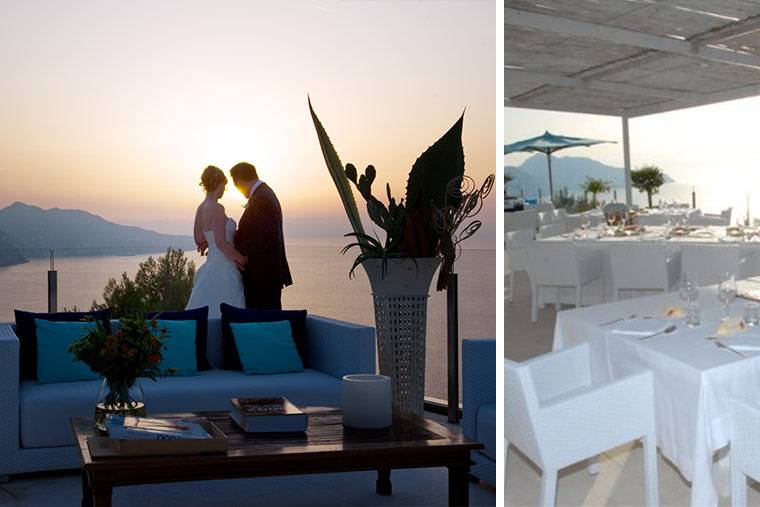 Once you have decided to hold your wedding ceremony abroad, you have the exciting task of deciding which country to get married in. We have selected four stunning venues in four beautiful countries to help give you some ideas and get you started on weddings abroad.
Italy
If you want to get married abroad somewhere with a great climate and lots of sunshine, but you also want somewhere that is easy to travel to for you and your guests then why not get married in picturesque Italy.
Travel to the south of the country to beautiful Sorrento where you will find the stunning Ice-White Hotel. This venue is a charming, 4 star hotel. It has a magnificent position amidst the rich vegetation of a peaceful, landscaped park, dramatically fused with an imposing mountain as a backdrop. This location has beautiful accommodation for your guests and there is also internal catering therefore no separate hire and catering fees. The hotel welcomes wedding parties of all sizes and larger parties are able to have exclusivity of the hotel. Situated in the hills of Sorrento, you will have stunning views across the water overlooking the Island of Capri.

Crete
The largest of the Greek Islands, Crete is the ideal location for your wedding abroad if you are looking to celebrate somewhere warm and sunny with picturesque views.
You could marry at the Agios Nikolaos chapel, where you can say your vows while looking across the twinkling turquoise ocean. It is the ideal location for an intimate wedding abroad that you can share with your closest friends and family. After saying your vows why not head to Pastopeion where you can hold the most beautiful wedding reception overlooking the sea. You and your family can enjoy a delicious meal while you sit back and watch the waves lapping against the shore. What better way to start your married life together.

Australia
If you are happy to travel long haul for your wedding abroad then what could be more perfect that celebrating your big day in sunny Australia.
Boomerang Beach House is the ultimate retreat on Australia´s sunshine coast and is ideal for a romantic and intimate wedding. You can enjoy total privacy in a stunning sea view villa overhanging the ocean in Queensland, Australia.
Located on the coast at the southernmost end of the Barrier Reef, this five-star beach house will simply take your breath away. Designed by the award-winning architect James Grose, the Boomerang Beach House is a leading example of environmentally sensitive architecture. The property is perfect for a small and private wedding for up to 14 guests. Hire a private chef to create the perfect wedding dinner on the terrace which overhangs the ocean or head to the private beach for photographs before retreating to the king-sized bedroom pavilion for honeymooners.

Dominican Republic
The second largest Caribbean nation, the Dominican Republic is the perfect wedding destination if you are looking to celebrate your big day on a paradise island surrounded by beautiful beaches and palm trees.
If you are searching for the ideal resort to hold your wedding in the Dominican Republic then why not take a look at The Paradisus Palma Real Resort. This stunning resort is surrounded by crystal clear Caribbean waters, stunning gardens and magnificent architecture. They cater for a range of wedding budgets and include packages from the simple and elegant to the indulgent and extravagant. You can choose to hold your romantic wedding ceremony out in the open and then celebrate with your wedding guests with a selection of fine cocktails. When it comes to your wedding breakfast you will be spoiled for choice with all the fine Caribbean cuisine that there is on offer.
Read more on weddings abroad in our planning articles section.