Fairytale Wedding Venues in Ireland
Your love story is one for the ages, so be sure to check out our list of some of the best fairytale wedding venues in all of Ireland.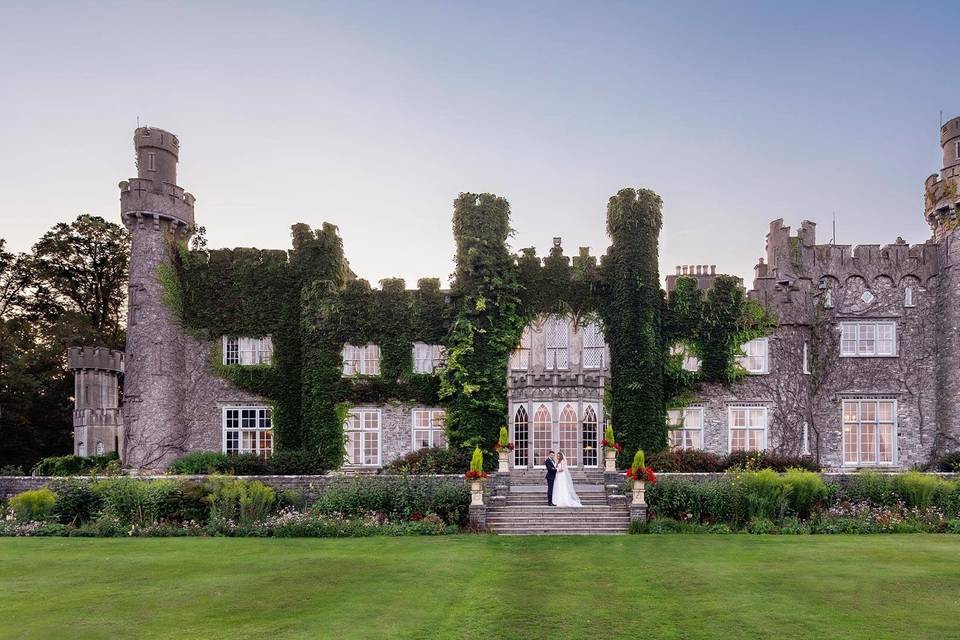 Your wedding is a day you've probably been dreaming of for years, maybe even since you were a child. So you know that a wedding celebration is so much more than a fancy party. It's a fundamental part of your story; imagining it has helped guide you on your journey in love and has shaped the person you have become. You may never have wanted a big, expensive celebration, but what you desire is an expression of who you are, and in your own, unique way, you are utterly fabulous. You deserve to celebrate your love your way, so whether your idea of the perfect fairytale wedding is a grand medieval castle or an idyllic little garden, we have a list of enchanting Irish wedding venues we think you'll love.
1. Marlfield House, Co. Wexford
Marlfield House is a boutique hotel in Wexford, renowned for its hospitality and spacious, picturesque grounds. It boasts a lovely ornamental lake, woodland walks, rose gardens and flourishing vegetable and herb gardens. It is also home to a veritable menagerie of peacocks, hens, dogs and ponies. It hosts parties of up to 110 guests, and it provides overnight accommodation for 52 people.
2. Harvey's Point, Co. Donegal
Harvey's Point is a beautiful little spot, right in the heart of Donegal. You can enjoy panoramic views of Lough Eske and the majestic Blue Stack Mountains and exchange vows on the pier or in the bright, welcoming Garden Suite. Of course, no celebration is complete without the meal, and Harvey's Point is proud to offer a fabulous array of dishes, sure to satisfy even the most discerning palate.
3. Darver Castle, Co. Louth
County Louth is a place steeped in legend and history, and there is perhaps no better place than Darver Castle to experience all the very best that Ireland's smallest county has to offer. This fine medieval castle is situated in the centre of 50 acres of parkland, complete with extensive lawns and gardens and framed by mature trees. Here, you and your guests can enjoy old-world elegance, plus all the comforts and amenities that an award-winning venue can provide. The castle's spectacular banqueting suite, which features cut-stone walls and exposed beams, hosts wedding parties of 50 to 280 guests.
4. Kilronan Castle Estate & Spa, Co. Roscommon
Kilronan Castle Estate & Spa, on the shores of Lough Meelough in Ballyfarnon, is one of County Roscommon's hidden gems. They believe that the start of your marriage is the perfect opportunity to lavish you with experiences that will warm and gladden your heart and stay with you through all the many remarkable journeys and years that lie ahead. Kilronan Castle holds civil ceremonies and partnerships by the lake and in the library and high-ceilinged Palm Court. The spacious, chandeliered Grand Ballroom can accommodate up to 350 wedding guests for a lavish, fairytale wedding reception.
5. Mount Druid, Co. Westmeath
Mount Druid in County Westmeath is a working sheep farm and the perfect wedding destination if you're the sort of couple that wants to break free of the flock. The venue is available for exclusive use and includes a purpose-built tin chapel, with seating for up to 150 people, a boathouse and a barn, which seats up to 220 guests. Their in-house catering team offers a choice of three delicious menu options. There is also a house, gate lodge, former schoolmaster's house, converted double-decker bus, cottages, huts and yurts for overnight guests.
6. Glenlo Abbey Hotel, Co. Galway
Glenlo Abbey Hotel, by the waters of the majestic Lough Corrib, is a place of such exquisite elegance and charm that it seems to have been plucked directly from a fairytale. Here, you and your loved ones will find no shortage of sumptuous function rooms and event areas. The 18th-century abbey is perfect for civil ceremonies and intimate gatherings of up to 60 people. The Pullman Restaurant, comprised of two carriages from the Orient Express, is another of the hotel's many popular features. Glenlo Abbey Hotel hosts no more than one wedding per day, and you are permitted to use the estate gardens and grounds for photography.
7. Trim Castle Hotel, Co. Meath
Trim Castle Hotel's impressive Tower Suite, Castle View Suite and Great Hall overlook the walls of the mighty Trim Castle, the largest Anglo-Norman fortification in Ireland. Henry V, Shakespeare's Prince Hal, visited the castle as a boy. Today, the rolling hills of County Meath are still a byword for comfort and grandeur. Trim Castle Hotel hosts civil ceremonies and blessings. After the ceremony, you and your guests can adjourn to the Rooftop Gardens for photos and reception drinks. Trim Castle Hotel offers one-to-one viewings; virtual viewings are also available.
8. Fernhill House Hotel & Gardens, Co. Cork
Fernhill House Hotel & Gardens is a breathtaking wedding venue in the West Cork countryside, featuring a spectacular Georgian manor house, acres of gorgeous landscaped gardens, an orchard, a gazebo and lovely water features. You can have your dream ceremony in the manor house, the Garden Marquee or the romantic Marriage Garden. Fernhill House Hotel & Gardens is a perfect choice if you're looking to amaze your guests and enjoy a day of magic and romance you'll never forget.
9. Belleek Castle, Co. Mayo
Belleek Castle, begun in 1825 and completed in 1831, is a fine example of Neo-Gothic architecture. Set in Ballina, County Mayo, in the heart of the Connacht countryside, this award-winning venue has several awe-inspiring event spaces, including the extraordinary Armada Bar, constructed from great oak baulks and designed to resemble a ship of the Spanish Armada. You can also enjoy a fine array of delicious dishes, all made using the finest and freshest ingredients.
10. Luttrellstown Castle Resort, Co. Dublin
Dublin's Luttrellstown Castle Resort offers the sort of wondrous, one-of-a-kind experiences that are sure to stay with you forever. This tranquil 567-acre private estate includes a marvellous 15th-century castle, available for exclusive hire, and a stunning three-storey Alpine-inspired clubhouse that overlooks the 18th green of the resort's golf course and affords spectacular views of the distant Wicklow Mountains.
11. Brigit's Garden, Co. Galway
Brigit's Garden is a dreamy, peaceful wedding venue in Roscahill, Galway, at the gateway to Connemara. It has four beautiful Celtic-themed gardens, featuring a delightful island surrounded by water lilies, tall standing stones, a ceremonial circle and ancient throne, and a circular thatched roundhouse that can accommodate 25 people for a ceremony or up to 40 for a drinks reception. You and your party can then make your way to the Garden Marquee or Hazel Room for a delicious wedding feast. Brigit's Garden is a place for connecting with the senses and enjoying the magical wedding moments that will blossom and become tomorrow's treasured memories.