The Best Library Wedding Venues in Ireland
Looking for a classic and elegant wedding venue? Consider the timeless setting of a library. We profile five stunning options in Ireland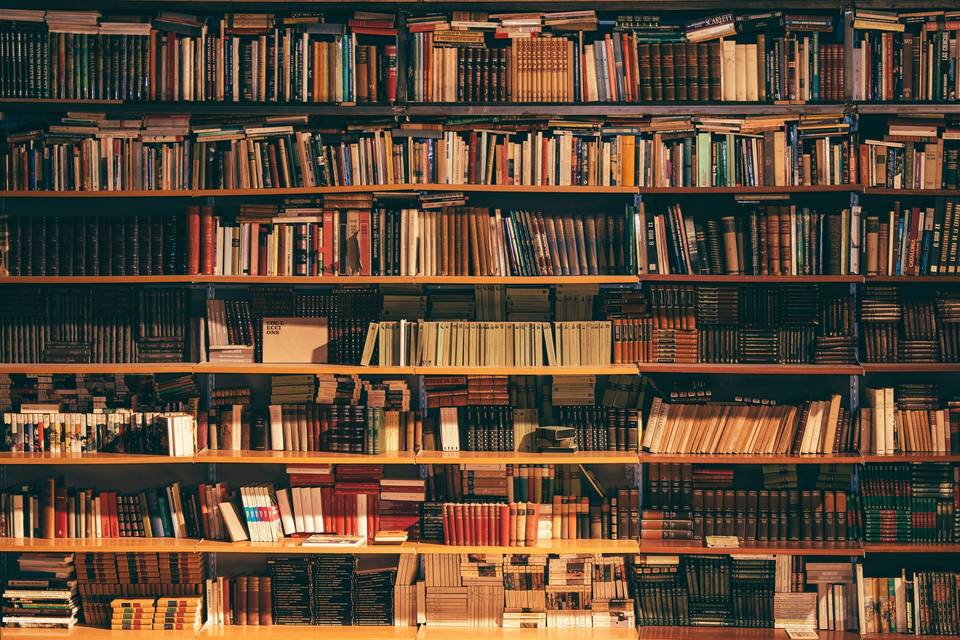 You don't have to be a bookworm to consider holding your wedding in a library: as well as being a unique setting, a library is a sophisticated and picture-perfect venue that looks amazing in your wedding photographs.
You can also work the library theme into your decor and details. You could give out classic books as favours, decorate your cake with icing books, use books in library-themed centrepieces and design stationery that includes books or literary references.
There are lots of options if you're interested in a library wedding venue. The most obvious choice is to look for a real, working library that is licensed to hold weddings. If you can't find a local library to host your wedding service, you could choose a beautiful venue that has its own library instead. Read on to see some of the most beautiful library wedding venues that Ireland has to offer.
1. Dylan Hotel - Co. Dublin
For a five star experience, the Dylan in Dublin has a library that can accommodate up to 35 people for an intimate civil ceremony. Weddings in the designer library provide warmth and elegance and promise an individual experience with bespoke packages to suit you and a delicious, seasonal menu created by the head chef, Mark Bodie.
Natural light pours into the room – fantastic for photographs – and it has a light, bright and airy atmosphere as a result. All weddings at the Dylan include a dedicated wedding coordinator, a candlelit, red carpet entrance and a suite for the couple on their wedding night with a champagne breakfast.
2. Sheen Falls Lodge - Co. Kerry
Set within a sprawling estate overlooking Kenmare Bay, at the foot of the Caha Mountains and the tumbling Sheen Falls, Sheen Falls Lodge has a lovely library that can seat up to 14 guests for an intimate wedding ceremony.
You can also celebrate in style at Sheen; the Falls Restaurant can accommodate up to 200 guests with an adjacent cocktail bar and sun lounge that is ideal for hosting a drinks reception and your evening entertainment. Champagne receptions, informal summer BBQs and evening buffets are also available to couples marrying at Sheen Falls Lodge.
3. Hayfield Manor - Co. Cork
The library at Hayfield Manor in Cork, a venue specialising in intimate weddings and civil partnerships, interconnects with the popular private dining room which has seating capacity for up to 52 people. The private dining room also provides access to the Manor Garden for a drinks reception or to take some outdoor photographs. You can have a small wedding or civil partnership ceremony in the library itself, or use it for a small pre-dinner drinks reception.
We love the chic, cosy vibe that Hayfield Manor gives off. The only thing more romantic than a flower-filled summer celebration would be to celebrate during winter, when the manor puts up their stunning Christmas decorations.
4. Palmerstown House Estate - Co. Kildare
Palmerstown House Estate is a gorgeous gem nestled just outside of Dublin in Johnstown, Kildare. Although they may not have a dedicated library, we think that this gorgeous wall of books counts enough to make it onto our list.
This stunning estate is set on 900 acres of rolling hills and beautiful scenery. The Manor House at Palmerstown House Estate is also home to 20 bedrooms, so there is plenty of space for couples and their guests to stay overnight.
5. Newforge House, Co. Armagh
If you're looking to host an intimate celebration with cosy corners and roaring fires, then Newforge House might be the perfect venue for you. This family-run estate is the epitome of romance, and it's the perfect setting to share a special day with your closest friends and family.
There are six bedrooms in this historic venue, so you can make it a wedding weekend. Snuggle up with your new spouse in one of the cosy sitting rooms and take a look at the well-worn books that are speckled throughout the lovely vintage-furnished house. The exterior is just as gorgeous, with an ivy-covered front wall that is a perfect backdrop for wedding photos.
Wherever you hold your library wedding, this is a theme that can run throughout your wedding day, providing class, timelessness, lots of fun and beautiful photos to treasure forever.