Historic Wedding Venues
Traditional Irish locations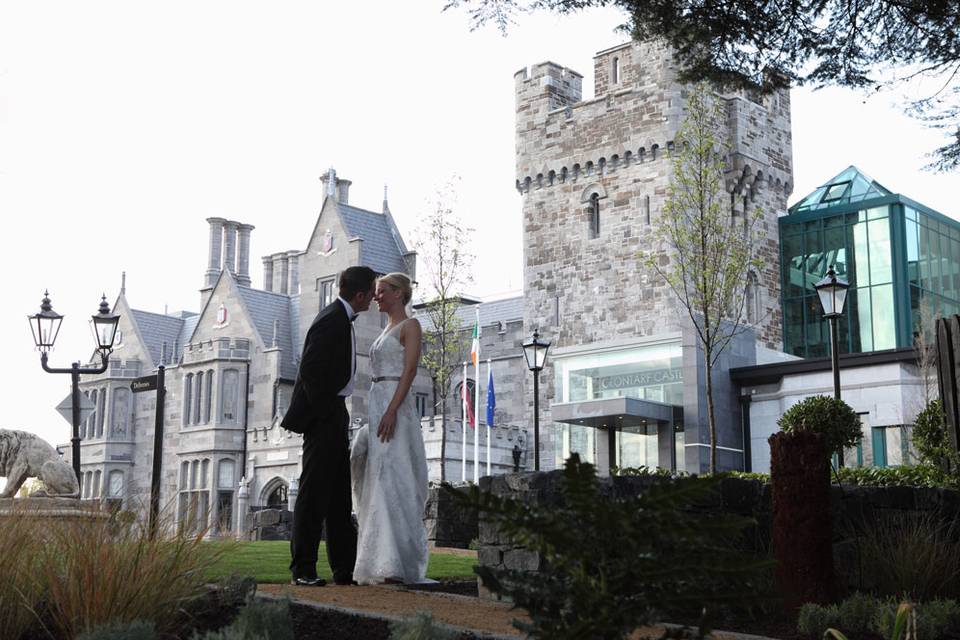 Create a traditional Irish wedding day to remember by choosing a wedding venue that is steeped in history. By choosing a charming historic location for your big day, your wedding guests will be able to take in the beauty of your wedding alongside some stunning Irish history. We have over 500 Irish wedding venues in our venues directory and here are just a few of our historical favourites.
Embrace some Irish history with a wedding at Clontarf Castle. Clontarf is one of the key areas in Ireland's history with one of the most historic moments being the Battle of Clontarf that took place in 1014. In 1172 Clontarf Castle was built — originally as an inner circle of defence sites protecting Dublin. After passing through many hands it was in 1997 that Clontarf Castle was closed and in 1998 it re-opened as a beautiful 4-star hotel.
If you are looking for a venue steeped in Irish history then Clontarf Castle will be the perfect backdrop. Hold a romantic and lavish reception in their Great Hall with its elegant gold and cream colour scheme and Louise Kennedy crystal chandeliers. If you are planning a smaller wedding day then the Viking Suite caters perfectly for weddings of up to 100 people. The Castle can now also cater for civil ceremonies so you are able to hold your whole wedding day in one place.

Blackwater Castle is a venue full of history and heritage dating back to the Mesolithic era. The Castle was known as the fort of Dun Cruadha in pre-Norman times and after the Anglo-Norman Invasion it became known as Roche Castle. Alexander and Raymond Fitz-Hugh built the Castle in the late 12th Century and remarkably, over 800 years later, this tower is still intact. A later tower was built in the 15th Century and this is the prominent tower or keep that dominates the surrounding countryside.
All the other features of an early medieval fortress are here for your guests to explore from the 14th Century Defence Walls of the outer Bailey to the early Christian Holy Well of Saint Patrick, from the 13th Century Look-out post to the Sentry Walk along the inner Bailey Wall, all of which add an invaluable dimension to your wedding. Blackwater Castle has 9 suites situated in the 17th Century house between the towers which sleep 22 and The Courtyard sleeps a further 41. Additional accommodation is available within walking distance in the village of Castletownroche. This unique venue is available to hire as a self-catering venue where you and your partner have the freedom, with our help, to design the wedding of your dreams customised to your taste and budget or we will prepare a package perfectly suited to your requirements.

Kilronan Castle dates back as early as the 1800's — the word Kilronan is from the Gaelic phrase 'Cill Ronan', meaning Ronan's Abbey, the ruins of this are close by to the castle. Originally built in the early 1800's, the castle was then extended in 1876 by the 12th Earl of Kingston and then the castle was later sold.
The region where the castle is based is the home of many historical poets, artists and musicians such at Yeats, Kavanagh and Percy French so this is the dream location if you are a fan of the arts and want to add some culture to your wedding day.
If you choose to have your wedding day at Kilronan Castle then the staff will do all the can to turn your fairytale wedding dreams into a reality. Wedding packages come with your own wedding planner and banqueting manager who will ensure your day runs smoothly. The castle will also cater for a range of wedding budgets, from the simple and classic garden menu for your guests, right through to the extravagant castle menu, which has a wide range of delicious treats for your wedding breakfast.

Historic Temple House in Ballinacarrow is nestled amongst the beautiful surrounds of the Temple House Estate and perfect if you want a peaceful and idyllic location for your big day. This stunning Georgian mansion is full of Irish history and a dream location for a traditional Irish wedding day.
Temple House has been home to the same family since 1665, giving it a charming and homely feel as soon as you enter. As well as wedding receptions, Temple House also cater for civil ceremonies, you can hold your civil ceremony in their Great Hall or celebrate your union with a wedding blessing by the Knights Templar lakeside castle. When it comes to your wedding breakfast, Temple House understands the importance your wedding food will have. They use fresh local ingredients to create your delicious meal and can offer a buffet style option or a sit-down dinner.
With just 6 guest bedrooms in the house, it is easy to have exclusivity for your wedding day. There is also a cottage on the estate that can sleep 8 people, and additional wedding guests will be spoiled for choice with local hotels and B&B's located close by. The beautiful ambiance created by Temple House will mean you will have wedding memories to cherish forever.