Registry Office Wedding Ceremonies
Choosing a registry office instead of a church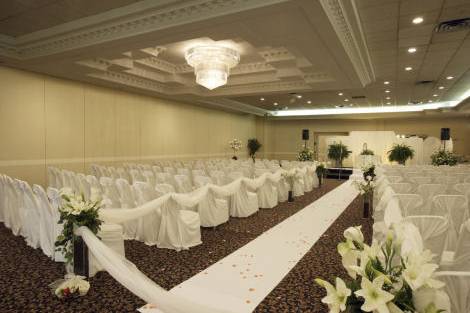 The church was the only legal place for couples to marry up until 1836. Nowadays however, couples are deciding to say their 'I Do's' in many different locations.
During the 19th Century, civil ceremonies became acceptable in places like register offices. Over the last few years, this now includes a wider variety of 'approved premises'.
Zoos, football clubs and stately homes are just some of the strange and exciting locations where couples exchange their vows. However, a registry office is still a very popular alternative to a church wedding.
If you think this is a boring to have as a wedding venue, you are very much mistaken. You can make many alternative arrangements for the ceremony, all to suit your different needs and tastes. All ideas are welcomed to help make your day extra special.
Although most registry offices are decorated with flowers anyway, you may also add your own floral displays and other decorations. Take into consideration, however, that other couples may be getting married at the same venue later that day and so elaborate decorations that will be difficult to put up and take down should not ideally be used.
Music and readings are of course, allowed at registry office ceremonies. However, hymns or passages from Bibles are not allowed at a civil ceremony. The ceremony must have no connections to religion. Religious music is therefore also ruled out.
Most brides and grooms now wish to record their ceremony on video and most registry offices allow them to tape the entire ceremony. Ultimately, the decision on what is and is not allowed rests on the local authority's superintendent registrar.
Couples are often now writing their own marriage vows as it adds a slightly more personal touch.
Rules do also have to applied here as well. Including the declaration by both the bride and the groom that they do not know of any 'lawful impediment' as to why they should not be married. The vows must also include the vow 'I take you to be my lawful wedded husband or wife'.
The registry office also has its own particular way of wording the marriage ceremony. This is something that the superintendant will discuss with the happy couple before the big day arrives.
If a registry office is what you and your partner have set your hearts on, the registrar will ask for a 'call-out' fee set by the local authority. Civil marriage ceremonies can take place in any 'approved' location, they do not necessarily have to stick to their own home district. If this is the case, they must also inform their local registrar about the wedding also.
If you are planning a civil ceremony, it is a must that you contact the registrar in the district you wish to marry in. Simply get in touch with the local council where they are based.