Vintage Style for Your Flowers
Advice from an expert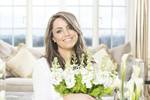 It was always Joeanna Caffrey's dream to work with flowers and after training with some of the world's top florists in London, Joeanna brought her skills back to Ireland. So who better to talk to us about beautiful floral design for your wedding day? If you want to embrace a bit of vintage style and effortless romance with your wedding flowers then take a look at Joeanna's top tips...
1. Choose Your Vintage Theme
The vintage wedding theme covers several spectrums of overall looks for your wedding, from early 20th century Hollywood glam, to rustic country garden, elegant French romance or a fun festival style. So choose what's right for you.
2. Mix & Match
No matter what theme you have opted for mixing and matching will be the ingredient in bringing your vintage look together. Choose floral containers carefully. Go to antique fairs or your granny's attic, the more unique each container is the more beautiful your final look will be.
3. Making an Entrance
Upon arrival to you venue your guests will get a sense of the whole vintage feel if greeted with a big old vintage suitcase filled with a mix of country garden flowers such as peony roses and delphiniums! Also try gramophones, old bicycles with their baskets filled with an informal bunch of blooms or even an old style type writer. These will make for the perfect vintage addition.
4. Texture, texture and more texture
The use of different textures within your flowers and props will make sure you achieve your vintage look. Your florist will help with your choice but choosing long stemmed flowers such as scented stocks with rounder flowers such as garden roses and astrantia will automatically create that sought after vintage feel!
5. Ensure Your Venue is Suitable
When creating any look, it is important to keep in mind the style of venue, if vintage is ultimately the look then choose a 'vintage' style venue perhaps with a marquee set within a wild garden! Or a rustic style castle is perfect!
6. Introduce Herbs into Your Flowers
Combining wild flowers and herbs makes for a really beautiful 'just picked from the garden' feel. Fragrant lavender, jasmine or rosemary is a perfect partner with any vintage look!
7. Rosy & Random
Choose all the colors and shapes that scare you! Choosing multi-coloured blooms of all different shapes and sizes... perfect in any old jug, bucket, tin or bottle!
8. Perfect Ivy
Ivy is readily available both in a trailing or a bush style, making it wonderfully economical and perfect for any vintage wedding. It is also a beautiful ingredient for floral head pieces or as a decorative addition to a mantelpiece or staircase!
9. Props
Macaroons, teacups and saucers, strings of pearls and lace doilies will really finish the look for you when used in conjunction with your vintage style floral arrangements.
10. A Nod to Nostalgia
Choose flowers that remind you or your childhood or a lovely memory. My grandmother had beautiful hydrangea and gorgeous 'scented' lilac in her garden... perfect for any vintage look and also bringing extra meaning to your special day.
Find out more about wedding floristry by Joeanna Caffrey by visiting her website www.joeannacaffrey.ie