Choosing Your Flower Arrangements
Simplicity is the key for floral arrangements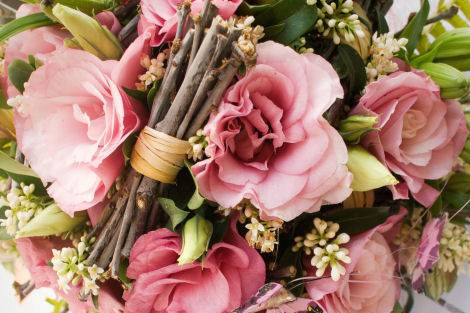 The style of arrangements for wedding flowers changes as much as fashion changes for wedding dresses.
Gentle, romantic lilies appear to be the new trend emerging amongst floral arrangements. These are tied by hand, instead of by wire and are a slightly more expensive look to go for. Natural flower arrangements are becoming more common as well, with an excess of foliage being used.
This is no surprise as many parts of the wedding need to be decorated such as the car, the men's buttonholes, the bride, the bridesmaids, the registry office or church, the reception and so on. Many brides are choosing to skip the flowers and stick to just the roots instead.
Take time to have an in-depth conversation with the florist you have chosen to do your arrangements. They will have many ideas for you to choose from and will be up-to-date on all the floral trends on the market.
If you are conducting your wedding on a budget, you can also use flowers from friends or relatives gardens that can look just as beautiful.
It is important your flowers reflect the 'look' you are aiming for so be sure to do plenty of planning before choosing your final floral arrangement. Simplicity can be just as stunning but mostly, choose an arrangement that suits both you and your partner's style. Go to a florist to ask for help if you feel you need it, they will always be ready and willing.
Browse our floral inspiration gallery for even more ideas.