Planning Your Wedding Flowers
Advice from an expert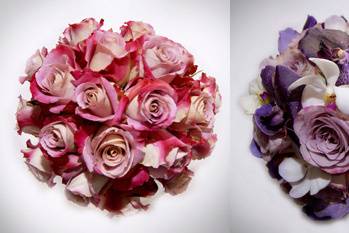 When it comes to choosing your , wedding flowers it can be difficult to know where to start. To help you on your way, we have some great advice from Elegant Flowers florist John McGuirk who is answering all those questions you may have and also letting you know what questions you should be asking your florist.
How important a part of the big day are the wedding flowers?
A bouquet or arrangement is as individual as you are and should reflect both the Bride and Groom's personality. Flowers help make the whole experience of the day personal for you and your guests, as different colours symbolise different moods you want to set the right tone and theme for the wedding day.
What would you suggest to a couple who are totally clueless about flowers?
The majority of people don't have favourite flowers. If you're not an expert or even someone who can name more than 3 types of flowers, you are not alone. An experienced florist can help you pick out the ideal combination of blooms for your wedding. Bring along photos of wedding floral designs that you have seen and liked and samples of wedding colour materials, i.e. table cloth, skirting, dress fabric, etc. to help with colour choices
How far in advance should you start looking for your florist?
Many florists can accept only a set number of weddings on a given day, so it is important to contact your florist well in advance to begin planning. A good rule of thumb is to make contact at least three months in advance. However, if your wedding is going to be an exceptionally elaborate event, taking place during peak wedding season or fall on a holiday, example Mother's day weekend, then six months to a year is not too soon to contact your florist.
How many meetings should you have with your florist prior to your big day?
You should have at least 3 meetings. You would have a first initial meeting to talk over ideas and see previous wedding work. The second meeting should be around 3 months before your wedding, this is so the florist can get a mood board together, showing the textures and their vision for the couple and discuss the finer details; the last meeting should be about 2 weeks before the wedding to finalise all the flower types and quantities.
Will a florist work within my budget?
Yes. Be honest about your budget on the initial consultation so the florist knows what to recommend. By taking your budget into consideration from the very beginning of the planning process, the florist can give you the best advice on how to place the flowers for maximum effect and what types of flowers will be the best value to achieve your desired look.
What finishing touches would you suggest for a couple looking to have something extra special?
The trend at the moment is butterflies or birds incorporated into floral arrangements to add that extra bit of romance without breaking the bank. Also Brides and Grooms are looking for more imaginative table centres and church decorations, they are bored with the usual, been done before, they want the decorations to really be different. The candelabras for table centres, candle aisle stands for the church are all still great for putting those final finishing touches without breaking the bank as most hotels now have the candelabras.
What key questions should a couple ask their florist when first meeting with them?
How long have they been making wedding arrangements?
What style do they specialize in — modern, traditional, romantic, etc.?
Can I see a portfolio of their work?
Are they familiar with my ceremony and reception location?
How do they charge for their services — a flat fee or per-item fee?
What is the cost of each item: bridal bouquet, bridesmaid bouquets, boutonnieres, centrepieces, etc.?
Can the florist also provide an aisle runner, candles, candlesticks/holders, trellises, potted plants, etc.?
Can they work within my budget?
How far in advance will they make my bouquet and centrepieces?
When will the flowers be delivered? Is there a delivery fee?
What time will the florist return to pick up any rentals?
Will they make a tossing bouquet for me? Is there a fee for it?
Can they tell me how to preserve my bouquet?
How many weddings will they be doing the weekend of mine?
Can they recommend seasonal flowers to help me save money?
Do they have creative and original ideas?
How much is the required deposit?
When is the balance due?
When do I need to give them the final table count for centrepieces?
Feeling inspired? Visit our floral gallery for even more ideas.