Wedding Dress Rules That Were Made to Be Broken
Break the rules on your wedding day!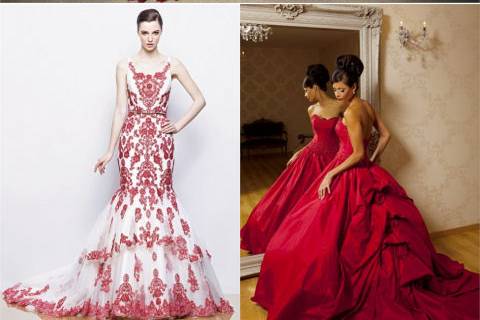 As you start to plan your special day, you are sure to hear lots of rules of what you must wear to honour tradition — but we quite like breaking the rules — just sometimes! Take a look at some wedding dress rules that were made to be broken...
Your Dress Must Be White
We don't think your wedding dress has to be a virginal shade of white. If you feel like breaking the rules then think about choosing sexy and sultry red for your wedding gown. We love these stylish red wedding dresses (pictured clockwise — Mori Lee, Hollywood Dreams, Enzoani) handpicked from our bridalwear section.
Your Dress Must Be a Dress
Perhaps you don't want to wear a dress at all! Chanel some Parisian chic and opt for a stylish trouser suit — we love the Garbo style from Stephanie Allin.
Your Dress Must Be Floor Length
If a floating and full length gown just doesn't suit your style then you don't have to be tied to choosing a floor length wedding dress. You will find so many stunning shorter dresses, from vintage tea length styles right through to micro minis. We love these shorter length wedding gowns from So Sassi.
Your Dress Must Be Sensible
Your wedding day is the one day you don't have to be sensible and you can do whatever you want. If you want a wedding gown as fabulous and flamboyant as you are then think about wearing a standout gown — we love these ideas from Ian Stuart.
You Must Team Your Dress With White Wedding Shoes
If you have decided to go traditional with your wedding dress and want just a flash of colour then team your gown with bright and bold wedding shoes. We love these personalised wedding shoes from Le Soulier to add colour and a bit of personality!
Did you break the rules on your wedding day? Share your wedding story with us!