10 Retro Ideas for your Wedding Day
Fashion, food and more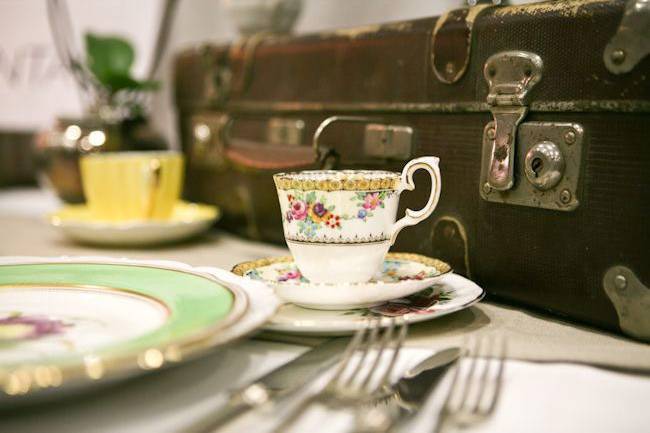 Adding some retro style to your wedding day can be a fun way to add something unique and stylish to your special day. Take a look at 10 of our favourite ways you can add some retro style to your big day.
Attending a retro or vintage wedding fair will give you plenty of ideas for your wedding day. One wedding fair to look out for is The Spectacular Vintage Wedding Fair, filled with wedding ideas and suppliers all perfect for helping you theme your retro wedding day.

Make a statement with your wedding attire by choosing a vintage or retro inspired dress. Shorter dress styles or wedding dresses with lots of intricate lace detail will look pretty and will suit your wedding style perfectly.
We love this Benjamin Roberts gown, style 2352 that combines a classic shorter style and a pretty lace overlay.

This headband from Visionary Veils is perfect if you don't want to wear a traditional veil but you still want something different for your hair.
This pretty band will look stunning with an up-do, with your hair cascading in curls around it, or you could have a backcombed down style completed with this bridal headband.

Make a bold statement by wearing bright and bold wedding shoes, they will look beautiful in your wedding photographs and adds some kitsch style to your wedding outfit. Standout shoes don't just have to be for the bride, the groom can also add some retro style with coloured brogues or even standout socks!

Give your guests a hint towards your retro wedding theme by sending a stylish wedding invitation.
These striped designs from Doodlemoose are a pretty and vibrant style and perfect for giving a glimpse of your retro wedding theme.

These mint green straws from CherishedBlessings.etsy.com will be the perfect finishing touch to your wedding reception. Give your guests strawberry milkshakes complete with a striped straw or add these straws to your favourite cocktail, giving your guests a unique welcome drink.

Give your guests a sweet treat with a candy cart at your wedding. Candy Couture Ireland offer a range of dessert buffet ideas, including their "totally retro" themed cart with striped candy bags and lots of colour. Or instead opt for a stylish white cart filled with your favourite sweets from your childhood.

Complete your cake with this fun cake bunting from BooBahBlue.etsy.com. The pretty pastel shades will add a feel of whimsical romance and you can add this delicate colour scheme to even more of your day with cupcakes covered in pastel icing or a table of delicious pastel sweeties.

Have a wedding dessert table that will get your guests' mouths watering, this beautiful dessert table includes an ombre wedding cake. The different shades throughout the cake mean you get a really broad colour palette and can then pick out all those different shades with your other sweet treats.

Your wedding music will be a fun way to embrace some retro style. Play some well-loved classics from the 60s, 70s and 80s, not only will it show off your wedding theme but guests of all ages will really enjoy it. Don't forget to browse our wedding songs sections for more musical ideas.