DIY Wedding Ideas
Lauren Conrad's top tips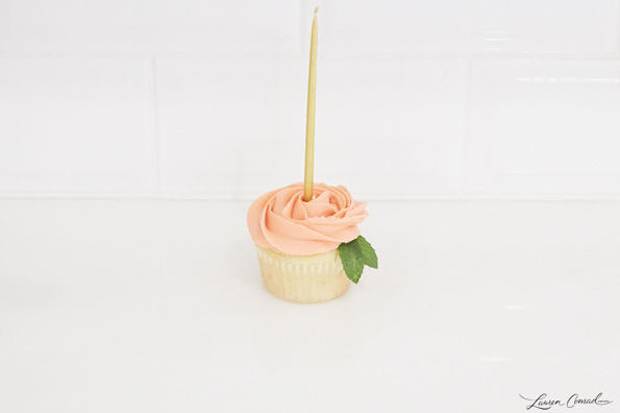 A bespoke style wedding doesn't have to come with a hefty price tag, we have enlisted the help of recently engaged style icon and author Lauren Conrad as she shares some of her top DIY wedding ideas...
Homemade Rose Cupcakes
If you love the idea of a dessert table at your wedding reception then take a look at how to make this small and sweet rose cupcakes.
You will need...
Small cupcakes
Butter cream icing
Icing bag
2D Icing tip (available from baking and homeware shops)
Instructions
Fill your icing bag with the 2D tip at the end
Start icing in the centre of the cake
Ice your cake is a continuous circular motion until you reach the edge of the cake
Top Tip
Create a real rose effect by adding edible sugar leaves to each cupcake.

Create Your Own Wine Charms
Cute wine charms will make a great wedding favour and will add a splash of colour to your wedding reception tables. We love these beaded designs created by the team at laurenconrad.com — and they are all created in a few simple steps.
You will need...
Thin wire
Wire cutters
Beads
Needle nose pliers
Instructions
Cut your wire into 3 inch pieces
Shape the wire into semi circles
String your chosen beads onto the wire
Using the pliers, shape the ends of the wires into little hooks that can latch together
Top Tip
Why not include wine charm making as part of your bridal shower or hen party, if you have ten girls making ten wine charms that gets you to 100!

Rustic Votives for Your Reception
Candle light at your wedding reception can help to create a soft and glowing atmosphere and these herb tied votives are perfect for adding some rustic charm to your day and they are also quick and easy to make.
You will need...
Glass votives
String
Your favourite herbs
Instructions
Chop your herbs into 3 inch lengths
Fasten around your votive with the string and tie
You're done!
Top Tip
Think about the scent your herbs will give out, rosemary and lavender can give off a beautiful scent that will fill the room.

Create a Boho Bridal Headband
If you want to add some boho style to your bridal look then think about a simple beaded headband, This video tutorial from Lauren Conrad shows how quick, easy and simple it is to create your very own bespoke bridal headband.
Find out more crafty ideas and top tips from laurenconrad.com