A Guide to Groomswear
Groomswear Explained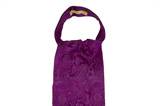 When taking a look at wedding fashion, let's not forget that almost as important as choosing the bridal attire is choosing the groomswear. We have been speaking with groomswear experts T.M.Lewin as they share their thoughts on modern-day groomswear.
"With marriage finally coming back into fashion, there's no doubt that today's modern groom tends to play a much more active part in choosing what they wear for the big day" says Anthony Procopi, Director of Men's Formal Wear at T.M.Lewin.
"At T.M.Lewin we help plenty of nervous husbands-to-be find their perfect wedding day suit and the majority have a very clear idea of how they want to look. It's our job to find a style and cut that fits the bill perfectly."
We have put together a quick-fix guide to groomswear to give you an overview of your choices featuring some gorgeous attire from T.M.Lewin.
Originating in the 16th century, a cravat is a great stylish alternative to a tie. Wearing a cravat can be a great option if you want to feel extra special on the big day and wear something that you wouldn't usually wear.

Create a formal yet fun look with your groomswear by wearing a bow tie. If you're not that confident on how to tie one you could always opt for one that is ready-tied.

T.M. Lewin now supply their very own 'wedding ties', available in a range of colours to suit the theme of your big day. These traditional-style ties are also beautifully presented in an ivory box so you can treasure it as a keepsake.

If you want a traditional style for your big day then think about wearing a cummerbund. This purple silk cummerbund would complete a wedding outfit perfectly and just give an extra bit of something special.

You never know, on the big day you may end up shedding a few tears! Or your lovely bride-to-be may get a little teary eyed herself, so having a handkerchief to hand on the day would be very useful! Why not co-ordinate your handkerchief with your wedding attire to complete your overall look.

It's the small details that can really make everything perfect. With endless colour combinations, styles and designs, you can find the ideal pair of cufflinks to complete your attire and tie the whole look and colour theme together.
View more groomswear.