Choosing Your First Dance Song
Picking the perfect soundtrack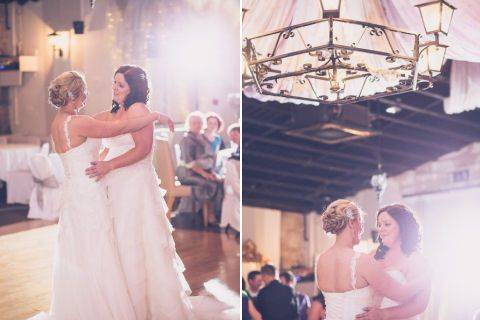 It's a huge moment on the big day — particularly if you and your partner are music or dancing fans. But how do you choose a fail-safe song for the first dance at your wedding?
To help you get it absolutely right on your wedding day (or night), here are the hitched.ie top 10 tips for choosing your first dance: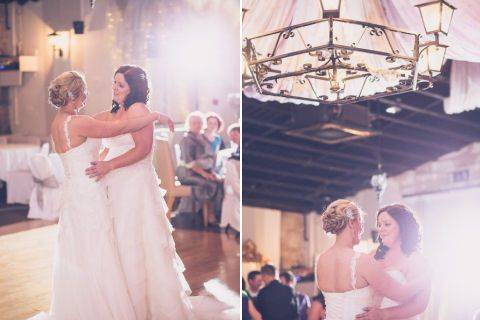 Phillip Cullinane Photography www.phillipcullinanephotography.com
TIP 1: Prepare to Compromise
Choosing a song for the first dance is a good bit of practice for the marriage ahead: if you have radically different tastes in music, some compromise is going to be required. Start thinking about any common ground you have, musically, and work from there. If there's a song that was around when you first met and it reminds you of the early days of the relationship, that could also be a smart choice; it might not be a favourite song of yours or your partner's, but if it has sentimental value, it might just work. And you can follow it straight up by asking the DJ to play your individual favourites, one after the other, to get the party started.
TIP 2: Decide on a Genre
Not all first dances have to be a slow, romantic smooch — if you're the kind of couple that likes upbeat house music or full-on rock, you don't have to compromise on your wedding day. As long as you agree on the genre, then go with it. Whatever style of music you love there will be a song that fits the bill.
TIP 3: Compile a Short List
A first dance is only perfect if you and your partner both agree on the song. Once you've agreed on the genre, you could both compile a list of your five favourite songs and then get together to discuss them. You'll probably have an instant reaction to every song that is mentioned, but make sure you actually listen to each other's choices — and even have a practice dance along to them — to see if they might work. It's a great opportunity to crack open a bottle of bubbly and have a lovely pre-wedding night in together.
TIP 4: Pay Attention to the Tempo
Once you've narrowed down your choices, think about the tempo of the songs in the frame and how easy they would be to dance to as a couple. Remember, this is a joint effort, so it's no good choosing a song that the bride will be pogo-ing around to while the groom shuffles along like a spare part. If you don't want a long, slow dance, look for a song that starts out slow and then builds up the pace. This will encourage your guests to join in once they've applauded and photographed your first few steps on the dance floor.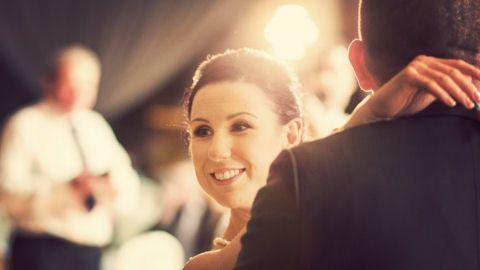 Phillip Cullinane Photography www.phillipcullinanephotography.com
TIP 5: Think About the Theme
Another good way to guide your decision, if you're struggling to find the right song, is to think about your wedding theme. If it's a vintage style wedding, for example, perhaps an old, romantic song would fit the bill. If it's a hip, contemporary wedding in a boutique hotel, something slick and pop-influenced might be better.
TIP 6: Listen to the Lyrics
The lyrics of the song work both ways. You may have a song that you both love — but if the lyrics are inappropriate for a wedding (if, for example, they talk about the break-up of a relationship or a broken heart) it might not be the best choice for a first dance — you certainly don't want your guests having a laugh at your expense! Conversely, if you're trying to find the perfect song, search for something with lyrics that really mean something to you, or sum up your love story. It might not be a song you've particularly liked in the past, but if it suddenly feels right, in the context of your wedding day, it could be the one — and it will remind you of your wedding day forever.
TIP 7: Talk to the Band
If you're hiring a band for your wedding reception, talk to them about the first dance to see if they will learn the song you have in mind — it's much more special to have a song played live than to stick on a CD. If you're stuck for ideas, the band can also help you make a decision: if they play lots of weddings they will be able to give you expert tips for choosing the perfect first dance.
TIP 8: Be Playful
If you're not a sentimental couple, there is nothing wrong with choosing a first dance that is silly or wildly unconventional. If you really want to give your guests something to smile about, devise a dance routine in advance and make sure there is lots of fun and comedy involved: they will lap it up and you'll both have so much fun!
TIP 9: Get Professional
If the first dance is particularly important to you, or if you simply want to take it seriously and wow your guests, how about taking dance lessons before the wedding? You could learn a classic dance like a waltz, or try a more complicated contemporary routine. Find a friendly dance teacher, play them your chosen music and you can create something magical!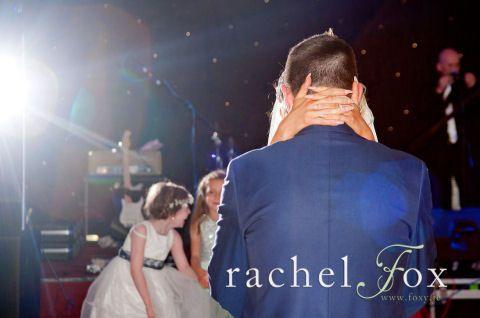 Foxy Studios www.foxy.ie
TIP 10: Pick One!
Perhaps you're not really interested in music, or you don't feel the first dance is that important — nevertheless, choosing one really is worthwhile. Otherwise, you can bet that the DJ, a well-meaning friend or relation, or even a random member of staff at the venue, will choose one for you. If it ends up being a song you hate or that has negative connotations (you certainly don't want to have your first dance to the song your ex used to sing to you, for example) you'll really wish you'd taken the time to organise the first dance yourselves. So don't delay — get choosing!
If you're looking for wedding song inspiration, check out our wedding song section.